2019 Winter Learning Community in Jamaica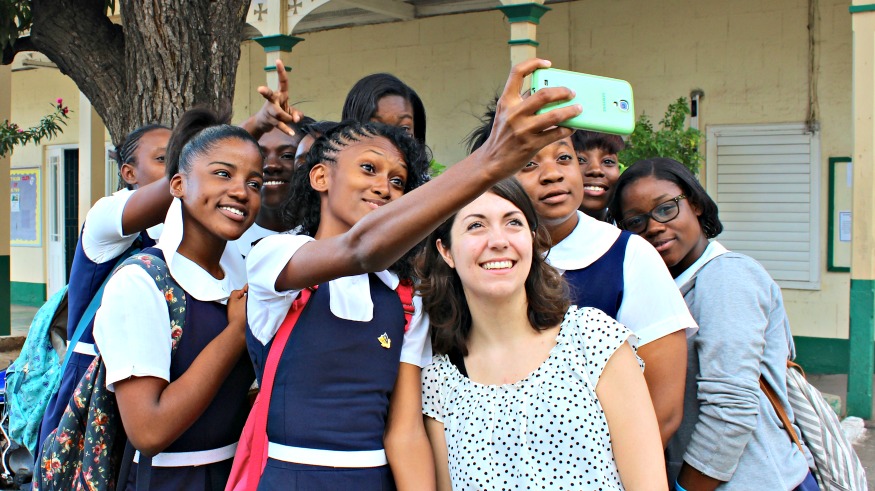 Applications for 2018-2019 are now closed.  If you wish to be added to an alternate list for this program please contact the IOP Director at internationalprograms@augustana.edu.
This program combines a course on campus during the 2018-2019 winter term with service learning projects in the Alpha Schools of central Kingston, Jamaica, during spring break. 
Students work with education faculty in the classroom and in Kingston. This is a hands-on learning experience that combines theory and practice, and offers students the chance to learn and teach alongside young Jamaicans.
Eligibility: This program is open to all students in good academic standing (2.0 GPA or higher). 
Recommended for: This program is open to all majors but is highly recommended for students in education (elementary or secondary), music education and any student interested in working with children or teens.
Anticipated program cap: 18 students
Faculty contact: Dr. Mike Egan and Dr. Danielle Beliveau-Derion
Program dates: The travel portion of this program occurs during Augustana's spring break. Exact travel dates will be available soon.
Academics: This program is an experiential Learning Community (LC), composed of two Education courses carrying Human Values and Existence (PH) perspectives and the Global Diversity (G) suffix. Students will be able to take other courses during winter term as all travel is over spring break.
Program courses include:
EDUC 262 (PH, G): International Comparative Education, three credits
EDUC 263: Jamaican School Immersion, one credit
Cost: The fee for 2018-2019 is $2,950.
Cost includes: Airfare, room and ;board in Jamaica, ground transportation, excursions, insurance.
Cost does not include: Discretionary spending.
Financial aid
As this program does not include tuition charges, only travel expenses, financial aid for the spring term cannot be applied to the program costs. These costs are in addition to the tuition and room/board charges for the term of the program. 
This program is Augie Choice and IOP Grant eligible. IOP grants are competitive and limited in number.
Augie Choice: This program is Augie Choice eligible for all students who have completed six terms or 60 credits (junior status) or higher at the time of departure.  Transfer students who have also completed three terms or 30 credits at Augustana are also eligible for the Augie Choice grant.
Application process: There will be an informational meeting about the program from 11 a.m.-noon Nov. 28 in Evald 212. 
The online application for this and all 2016-2017 programs will open in November 2017. Online applications and a $300 deposit are required by Jan. 15, 2018, in order for full consideration.
If the program is over-enrolled, a selection process based on academic year and GPA will be utilized to select the participants and a short alternate list.  If a program has vacancies after the January deadline, late applicants will be accepted on a first-come, first-served basis.