Augustana offers a major and minor in sociology, as well as a major with a concentration in social welfare.
Careers and internships
Every year, sociology students do internships in areas such as non-governmental organizations and non-profit sectors, public health, business, education and publishing.
Employers value sociology graduates for their research skills and knowledge of social organizations, social relations and collective behavior.
Augustana graduates are employed in community relations, human resources, social planning, legal professions, marketing, research, criminal justice and more. Students concentrating in social welfare are prepared for careers in the increasingly complex network of human services, including child and family welfare, health care, counseling, community organizing, policy analysis and program planning.
Augustana's graduates in sociology and social welfare have attended graduate school in sociology, law, public administration, social work, criminal justice, education leadership and counseling.
Recent grads:
David Etheridge '11 and earned a master's in educational policy and leadership from Marquette University. He is teaching high school math in Milwaukee as a member of the Teach for America corps.
Emma Anderson '13 said her peak experience as a sociology major was presenting her research at the American Education Research Association's national conference. She's now a doctoral student in political sociology at the University of Iowa.
Angela Conte '13 earned her master's degree in cognitive and behavioral sciences at Illinois State University and works as a research analyst at ECRA Group.
About the program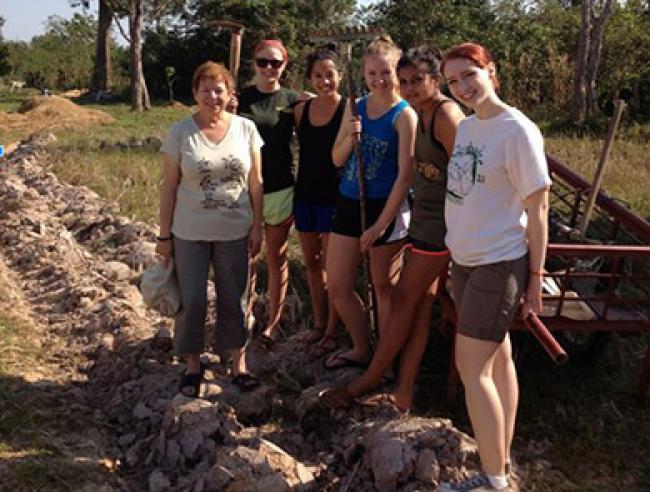 Augustana offers a 30-credit major in sociology, an 18-credit minor in sociology, and a 30-credit major in sociology with a concentration in social welfare.
A related program in anthropology expanded from a sociology concentration to a new major in 2008.
Sociology course topics include race, class, gender, aging, organization, religion, demography and crime. Social welfare topics range from crime to mental and physical health, and from child and family welfare to poverty.
A liberal arts background is ideal for a major in sociology, which is the scientific study of human interaction, society and culture. Sociology majors concentrating in social welfare focus on the responses of society to human needs and social problems.
More than 100 years old, the department's size and range reflect its long history at Augustana. Sociology students can customize the major in many ways, depending on interests, and faculty help to align these choices with specific career paths in sociology. Students also have opportunities to collaborate with their faculty on research in sociology, social welfare and social policy. Each year, sociology majors showcase their research at state, regional and/or national conferences.
The Richard A. Swanson Professor of Social Thought is a senior member of the department and directs the Center for the Study of Pluralism and the Civil Sphere at Augustana, which brings well known sociologists and other scholars to speak on campus.
What students say
Emma Anderson '13, sociology (social welfare) and psychology; graduate student in Ph.D. program for political sociology at the University of Iowa
I chose Augustana because of the size and the opportunities that that would present me. Getting to know my professors and other faculty on a personal level has made all the difference in my success at Augustana and my acceptance to graduate school. Although I have maintained the same majors throughout my four years at Augustana … I never could have imagined I'd have the skills or confidence to be going into a Ph.D. program.
Clara Franklin '12, anthropology, sociology (social welfare) and Africana studies, volunteer at Kibbutz Ketura in Israel
Augustana has amazing study abroad opportunities and professors that make the experience unforgettable. My term in West Africa allowed me to immerse myself in a culture that I would not have otherwise gotten the opportunity to experience. Also, this term gave me the chance to meet amazing Augustana students that otherwise would have been strangers. My professors, parents and friends helped me get where I am today. They always encouraged me to do things that I thought were beyond my reach and ability … I learned that I do have the ability and confidence to be a leader. While I can be very quiet and do not like public speaking or talking amongst a lot of people, Augustana gave me the skills and resources to find my voice and speak my opinions.
Tyrrell Jeffries '13, sociology and political science; deferring law school for two years while joining Teach for America program
Augie gives you so many different opportunities that all lead to wonderful experiences. Something I am truly grateful for! I have learned that you can continue to push yourself past whatever limits or boundaries you thought existed. I have taken on more, gained leadership roles, and have had many challenging and memorable experiences — all while being determined to finish a double major and getting the most out of both inside and outside the classroom.