HR Update - April 21st
To keep communication as clear as possible, and archive it for later use, the Office of Human Resources will be sending out updates using this format.
If you have information that you would like to disseminate to all employees, please send that to hrupdate@augustana.edu and we will coordinate adding the information to a future HR update.
For now, we would ask that you limit any mass communications to avoid confusion.
Changes to HR update submissions
Due to staffing transitions in the Office of Human Resources, please be sure to send future submissions to hrupdate@augustana.edu.  As this publication becomes a shared duty, submission to this email address will ensure your content is included in the next HR Update.
Flex eligible expenses
The college's flexible spending account vendor, EBC provided this reminder about eligible expenses that we thought might be useful to many.  Additional information is available here as well:  http://www.ebcflex.com/EligibleExpenses/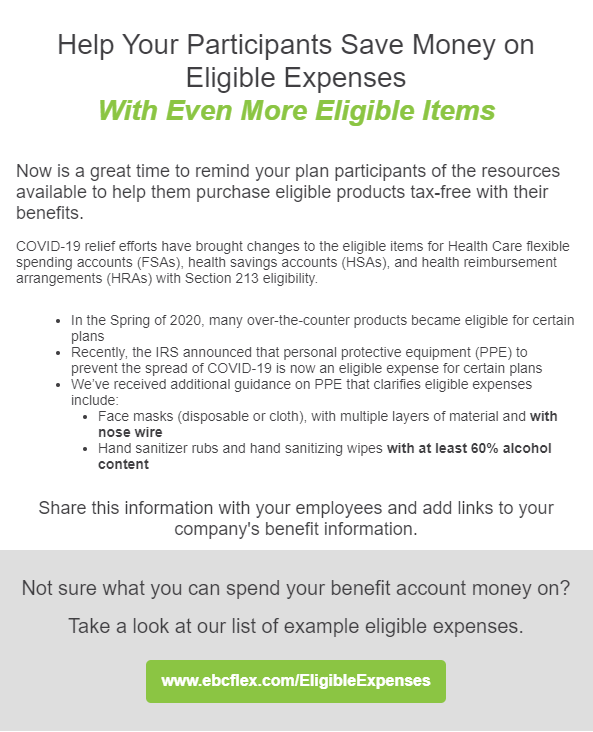 Dinner-to-go, April 22nd
Too much going on, would you like to take a break? Let Augie dining service cook for you, $25.00 feeds a family of 4. 
Meat Lasagna, Caesar Salad and Garlic Toast
Use this link to order: April meal to go
Orders must be received by 5pm on Wednesday, April 21st.
Pick up your orders Thursday, April 22nd between 3-5 pm at the Gerber Center Dining Hall.
CSD 6-week summer session
The Barbara A. Roseman Center for Speech, Language, and Hearing is offering a 6-week summer session, starting June 1st and running through July 30th, 2021. We offer a substantial scholarship for Augustana employees and their dependents. The Center is located in the newly expanded Brodahl Hall and is a training site for undergraduate and graduate students in speech-language pathology. We provide assessment and intervention for individuals of all ages with any type of speech, language, or literacy need.
More information and registration forms can be found here: https://www.augustana.edu/academics/areas-of-study/communication-sciences-and-disorders/clinic/summer
Space is limited, so if you are interested in securing a spot, please contact Dr. Stacie M. Greene, Center Director, at x7394 or staciegreene@augustana.edu.
What's in a Name?


"A person's name is to [them] the sweetest and most important sound in any language." 
–Dale Carnegie.
Join Diversity, Equity and Inclusion and Women, Gender and Sexuality Studies for What's in a Name? A two part dialogue focused on understanding the importance of names in signaling identity. 
Tuesday April 27th 12:30 pm -2:00 pm - Safe Zone Lunch and Learn: LGBTQ Basics - JOIN HERE
In this discussion led by Chase Norris, executive director of Clock, Inc participants will increase awareness and understanding of terminology related to identity and why it's important to get it right!
Tuesday May 4th 4:30pm - 5:45pm Dine and Dialogue: Survive, Adapt, Thrive! JOIN HERE
Amita Mehta, Founder, AMP Consulting will encourage us specifically in relation to LGBTQ+ inclusion and allyship. This interactive session aims to help us lean into our vulnerabilities, unlocking our own potential to create a climate in which people can bring their whole selves to learning and life. 
Join us for these talks with Q&A and earn a Safe Zone sticker for your door badge!  
Swenson Center April News & Events
Highlights:
The Swenson Swedish Immigration Research Center (located in Denkmann) is a library/archives for the study of Swedish-American history and relations. 
Farewell, Laura Ford, and good luck!