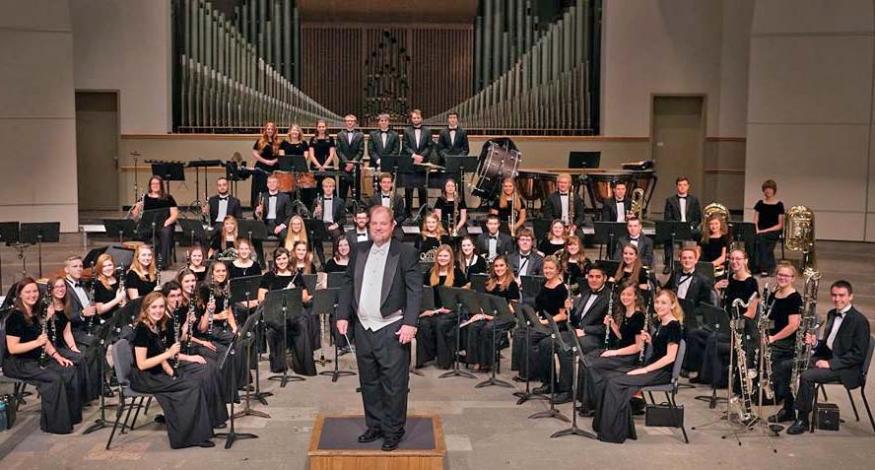 News
Symphonic Band will tour California in February
The Augustana Symphonic Band, under the direction of Dr. James Lambrecht, will tour southern California in February. 
The band will perform six concerts between San Diego and Los Angeles Feb. 17-23. The band will return to perform its home concert at 7 p.m. on March 10, in Augustana's Centennial Hall.
Admission is free to all concerts, and a freewill offering will be accepted.
Tour schedule
Feb. 17 at 7 p.m., Calvary Lutheran Church, Solana Beach.
Feb. 18 at 4 p.m., Community Lutheran Church, Rancho Santa Margarita
Feb. 20 at 7 p.m., Canyon Crest Academy, San Diego, in a joint concert with the Canyon Crest Academy Band.
Feb. 21 at 7 p.m., Rancho Verde High School, Moreno Valley, in a joint concert with the Rancho Verde High School and Citrus Hill High School.
Feb. 22 at 7 p.m., Cathedral City High School, Cathedral City,  in a joint concert with the Cathedral City High School Band.
Feb. 23 at 7 p.m.,  Ascension Lutheran, Thousand Oaks.
The Augustana Symphonic Band is the college's oldest ensemble, established in 1874 as the Silver Cornet Band. The band is composed of more than 60 student musicians with academic majors across the liberal arts.
Since the early 1880s, annual tours have taken the Symphonic Band into 37 states for appearances in a variety of settings, including Orchestra Hall in Chicago; Town Hall in New York City; Joslyn Art Museum, Omaha; Crouse Auditorium on the Syracuse University Campus, New York; the Ford Theatre of the Honeywell Center, Wabash, Ind.; and numerous high schools, grade schools, and churches.
The annual concert tours typically alternate between regional and national itineraries. Outside the Midwest, the Symphonic Band tours on both coasts and internationally to the United Kingdom, Italy and Japan. The Symphonic Band rehearses three to five days per week and gives 20 performances.
Contact:
 Kevin Carton, manager of performance tours and arts promotion, 309-794-7323