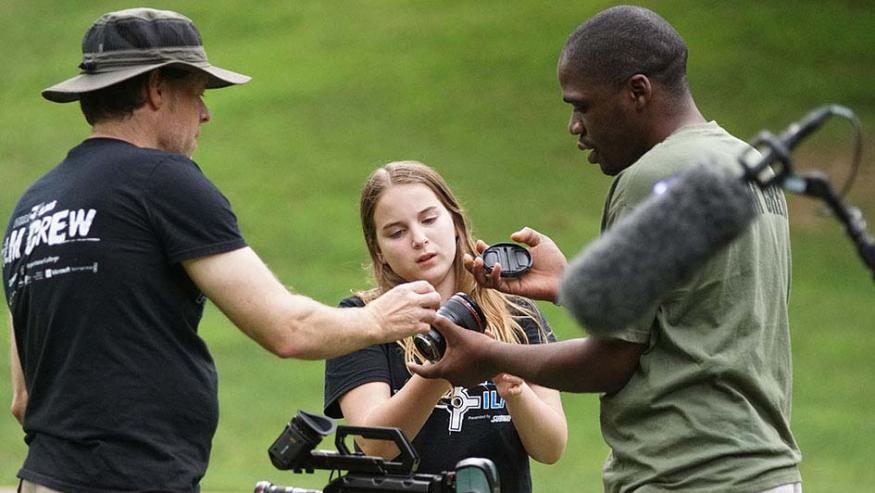 News
Students find variety, purpose with Fresh Films
Internships with an Emmy-nominated film studio provide a rare opportunity to undergraduates interested in filmmaking.
Each year, Augustana students return from summer break to some changes on campus. Along with talented new faculty hires, residence hall renovations and the inspiring new Brunner Theatre Center, this year students returned to something exceptional — Fresh Films, a working film studio relocated from Chicago to Augustana. 
Fresh Films travels to cities around the country to film episodes of its popular kids' science show, Detectives Club. In each city, local teenagers work on-set and alongside professionals to learn the skills of filmmaking. Augustana students work with the teenagers and professional crew as paid interns.
This summer, 13 Augustana interns worked in several positions, some based on campus and others on location and on the road with the crew.
Tori Charnetzki '18 and Tawanda Mberikwazvo '19 traveled with the Detectives Club crew all summer. Mberikwazvo, a multimedia journalism major, was on the production team in every city: Chicago, Atlanta, Dallas, Los Angeles, San Jose, Minneapolis, New York City, Washington, D.C., and back home to the Quad Cities.
A multimedia journalism and political science major with a theatre arts minor, Charnetzki interned as an associate producer in five of the cities. Her responsibilities included production, teen mentorship, and scouting out the best museum for film sets in each city. 
Working with teens was one of her favorite parts. "They were so excited about the camera equipment, being on set. In San Jose there were these two guys filing receipts, and they were saying, 'Were making a movie! We're so excited!''
She especially liked production because of the problem-solving. "I like being with creative people, groups of people working together to make something happen."
Charnetzki describes herself as not a typical hard-core journalism major. "I'm always looking for the weird twist in a project," she explained. "I am interested in the skills in the major, but to use in a more creative way. It's all about exploring the world, communicating ideas and working together with people."
That summary may explain her academic majors—and her interest in more production work in the future, perhaps as a freelance production assistant.
Renée Millette '16 used her creative writing major as a screenwriting intern. "This internship was a perfect way to end my undergraduate career, since screenwriting has always been a passion of mine," she said.
She appreciated the collaborative environment, working with other screenwriters. "Probably one of my favorite parts was seeing how ideas from brainstorming sessions turned into fully fleshed-out episodes," she said.
A recent graduate, Millette can see pursuing screenwriting in the future. And now her résumé lists working with an Emmy-nominated film studio, to help support that dream.
Filmmaking involves creative thinking of all kinds; yet much of the work associated with film and media production is based in business, technological and logistical support.
Like Millette and Charnetzki, senior Sam Dunklau has an academic background in creative writing and multimedia journalism. He worked remotely in business development for his internship.
"I was one of the more unique interns in that I did primarily home-based hotel booking and negotiation, with a dash of traditional development," he said.
On a daily basis, Dunklau secured hotel rooms and amenities for the traveling crew and actors, and developed a working list of contacts to reach out to for future video marketing projects.
"My work involved quick learning, a keen attention to detail, the art of negotiation and sales pitching, critical thinking and in-depth research," he listed. "I never knew how much behind-the-scenes work it can take to keep things on a Hollywood-style set running smoothly!
"I am grateful beyond words for this opportunity," Dunklau said, "and proud to have been called a member of the Fresh Films team this summer."