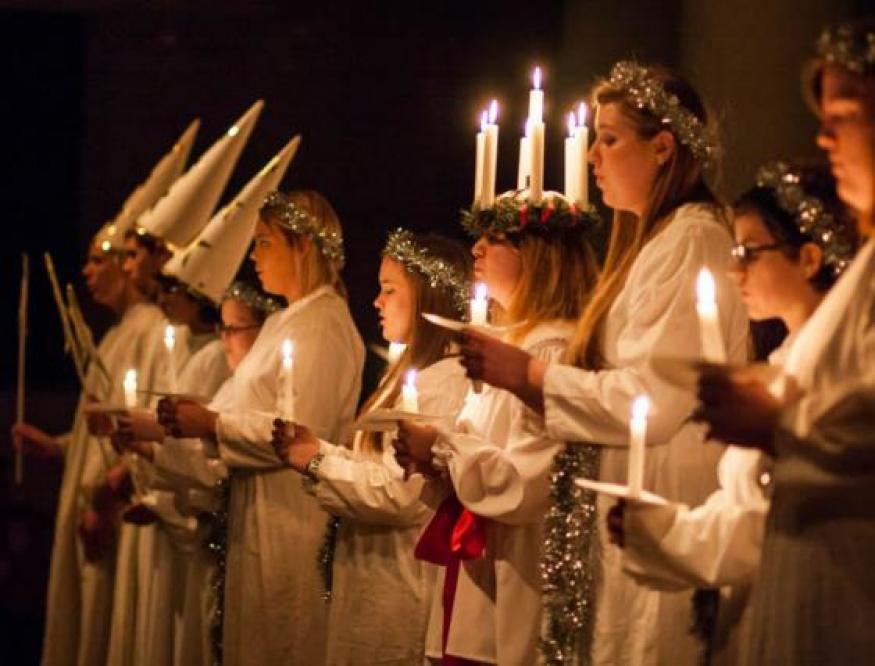 News
Festival of Sankta Lucia Dec. 12
Augustana's annual celebration of the Festival of Sankta Lucia will take place at 7 p.m. on Dec. 12 in Wallenberg Hall inside the Denkmann building. The event commemorates the holiday with traditional Scandinavian carols, lessons and poetry.
It is free and open to the public. A reception with holiday refreshments will be held after the performances.
The Sankta Lucia Festival is a cherished tradition of the Advent season in all the Nordic countries. A candlelight procession of singers is led by a young woman robed in white with a crown of candles on her head, to commemorate the martyred St. Lucy (d. 302 AD), whose feast day is Dec. 13. 
Over the centuries, this Sicilian saint from the early Catholic Middle Ages has become a fixture in Lutheran Sweden, where she came to represent the return of light to the dark, cold winter season and point toward the hope of Christmas.
During the festival, a student is chosen to play the role of Lucia.
Music in the program is drawn from the Advent and Christmas traditions of the historic Augustana Lutheran Church and the other Swedish-American denominations in the United States.
The singing is led by the Swedish language students and campus organist, Chris Nelson. The program concludes with a special performance by the Jenny Lind Singers, directed by Dr. Michael Zemek.
This Christmas celebration is hosted by Augustana's Department of Scandinavian Studies and American Scandinavian Association.
A smörgåsbord dinner will be sponsored by the Swenson Swedish Immigration Research Center on campus prior to the Sankta Lucia Festival. This event has sold out. Call (309) 794-7204 or email the center for details.
Contact: