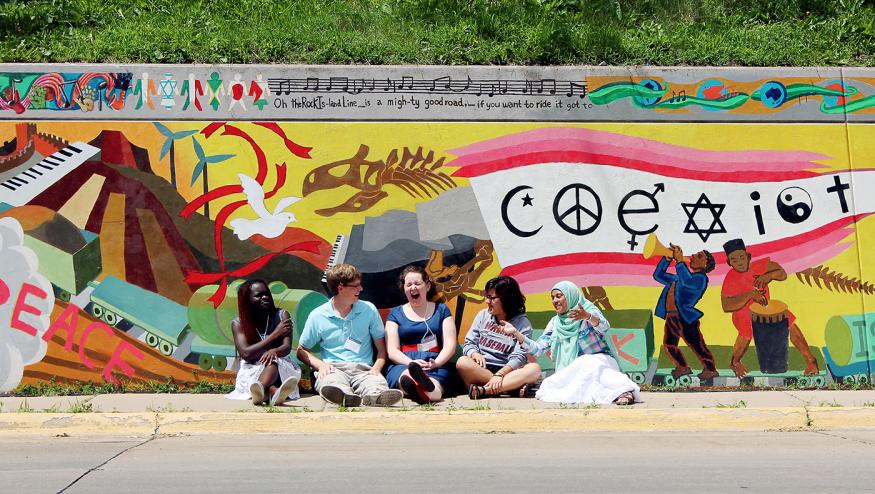 News
Faith and filmmaking lead to new programs
This fall, Augustana offers two new certificate programs. Both extend from award-winning resources at Augustana, and build timely, marketable skills for students in any major.
Entertainment and Media Industries 
This certificate program will combine coursework with hands-on film experience to prepare students for careers in the $771-billion industry, one of the largest and fastest-growing sectors of the U.S. economy. The industry calls for skilled employees and versatile leaders in many fields, making liberal arts graduates ideal candidates.
The certificate program was developed by Augustana faculty and Fresh Films, a working film studio on campus. Estlin Feigley '93 and Kelli Feigley head Fresh Films and teach in the program, along with other faculty. Courses will focus on production, marketing, screenwriting, design, global industry analysis, business operations, stage-to-screen directing and theatre technology, and more. Students also will gain hands-on experience working with Fresh Films.
Multimedia journalism major Sam Dunklau '17 was a logistical support intern with Fresh Films. "My work involved quick learning, a keen attention to detail, learning the art of negotiation and sales pitching, critical thinking, and in-depth research," he said.
"I never knew how much behind-the-scenes work it can take to keep things on a Hollywood-style set running smoothly!"
Interreligious Leadership  
Augustana's mission and strong religion department support a focus on interreligious studies. This certificate will build students' knowledge of religious and cultural traditions, which they can use within academic, practical and professional settings. Students will apply their course learning and reflection in internships with local faith communities, non-profits and other organizations.
Augustana's Five Faith Commitments, adopted in 2004 and updated in 2014, reflect five fundamental values of the Evangelical Lutheran Church in America (ELCA), as applied in the 21st century, which will help guide the college's future. The first of these commitments is interfaith engagement.
"We have seen ways in which Augustana's Lutheran heritage has been a critical part of its success in going beyond mere inclusivity," said Dr. Cyrus Zargar, associate professor of religion at Augustana and director of the certificate program.
"Augustana has already been recognized nationally as a case study in interreligious leadership, and received the Better Together award of the Interfaith Youth Core. Our many campus organizations aim to create dialogue around important issues, explore religious identity and diversity, and engage with national organizations to shape the dialogue both of the ELCA and our nation."
The Interfaith Youth Core and the Teagle Foundation awarded a $10,000 grant to Augustana to support the interreligious leadership certificate program. The grant will largely go toward funding student fellowships, according to Dr. Zargar.
Augustana also offers certificate programs in entrepreneurship, nonprofit leadership development, and American culture exploration (for one-year international students). Certificates advance students' skills in specific areas, whether related to or outside their major(s), and provide formal documentation of their competence.