Schriefer's work to display in New York gallery
February  06, 2013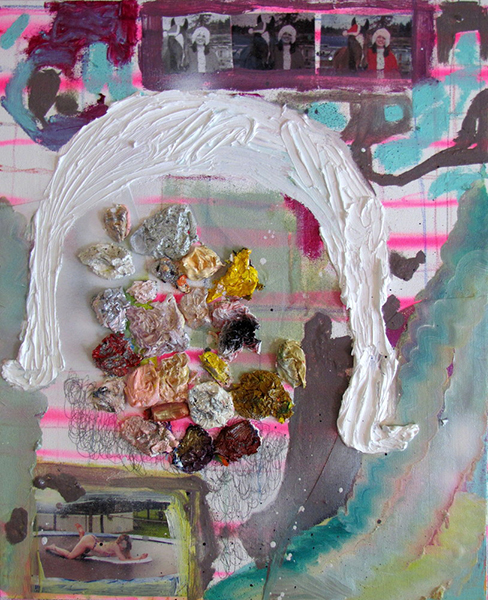 Trew Schriefer: Untitled 2011; oil, acrylic, spray paint, glitter, graphite, crayon, and collaged images on canvas.
Trew Schriefer
Works by Trew Schriefer, art and art history instructor at Augustana, will appear in the exhibit "(I'm Your) Hoochie Coochie Man" at the Tracy Williams Gallery in New York City Feb. 14-March 16.

Named after the blues standard first recorded by Muddy Waters in 1954, the show brings together four artists from the Chicago area. Other artists featured are David Leggett, Tim Nickodemus and Rachel Niffenegger.
Schriefer uses non-traditional materials in his work, such as photos from popular culture, glitter and craft appliqués, among heavy layers of oil paint, spray paint and scraps of used canvas.
"By collaging ripped up old paintings, scraping off materials and reattaching them in new relationships, Schriefer employs a studio bricolage technique to bring an active quality to his work," write Judy Lederwood and Tony Tassett of the Tracy Williams Gallery.
"The resultant quasi‐melting pot undermines the hierarchy of materials and recalls Rauschenberg's concept of the flat bed picture plane — this time defined by a quality of celebrated, uncouth excess. The canvases take on a sculptural quality that champions the mark of the artist, confronting the viewer both visually in the use of brash colors and spatially through an aggressive materiality."
All of the artists will attend an opening reception for the show from 6-8 p.m. Feb. 14.
Trew Schriefer has a master's in fine arts from Illinois State University, Normal, in 2010, and a bachelor's in fine arts (drawing/painting) in 2007.
Sam Schlouch
Senior Communication Director
(309) 794-7833
samschlouch@augustana.edu