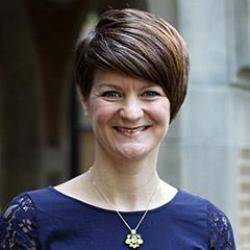 Erin Hoover
Assistant Director of Admissions, Chicago Region
Cell number: 630-470-5988
Follow Erin on Twitter.
What do you most love to tell prospective students about Augustana? I love to telling them about Augie Choice and CORE. These are two very important distinctions that make Augustana different. One student I met with said, "What I love about Augustana is that 'Augie Cash' thing!" What she was referring to was Augie Choice but essentially she hit the nail on the head; we give students "cash" to get some awesome experiences: study abroad, internships, research, and more!
What is your favorite time/tradition of the Augustana school year? Fall, fall, fall! This campus is gorgeous year-round but the fall scenery and landscape are absolutely breathtaking!
What's great about the Quad Cities? The local feel. Sure, there are chain restaurants and companies with national reputations (an amazing asset for internships) but some of the best things in the community are local and homegrown. 
What do you like to do around the community? Since my office is in the Chicago area, I have some go-to spots when I'm on campus: Cool Beanz, Hungry Hobo, Bierstube, and, of course, Whitey's Ice Cream!
What advice do you have for students who are searching for the right college for them? Visit, visit, visit. It's the only way to know if a school feels like home.
Territory
Chicago area counties: DuPage, Kendall, Will, and southwest Cook
Specializations: First year recruitment, Financial aid, Admissions
Education
B.A., North Central College
M.A.Ed, McKendree University