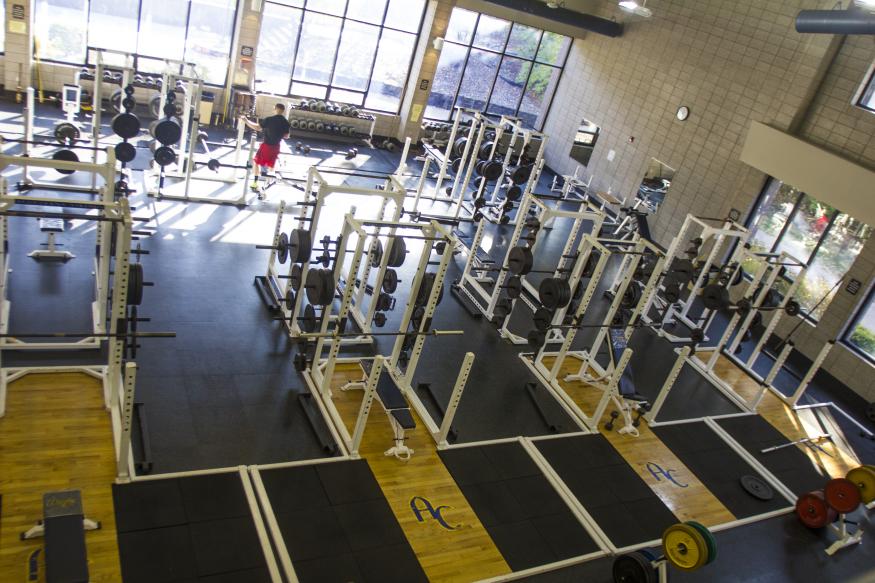 News
Improvements planned for Carver Strength Center
Plans are in the works to refurbish the Strength Center in the Roy J. Carver Physical Education Center on campus. The project will benefit the entire athletics department—every varsity program and all of Augustana's 700 student-athletes will be impacted.
Mike Zapolski, director of athletics at Augustana, points out that the college is fortunate to have a large, dedicated space for student-athletes to be engaged in strength and conditioning activities, and the renovation will put the college's programs in the best position possible in a highly competitive conference.
Proposed features of the refurbished Strength Center include:
Eight 9-foot combo racks that will create 16 identical work stations with appropriate bands and weight plates.

Three functional trainer, cable crossover machines.

Five glute/hamstring benches.

New dumbbells, dumbbell racks and benches.

Medicine balls and adjustable plyometrics boxes.

New rubberized floor to accommodate multi-purpose functions and include drop zones.
Investment in athletics since 2004
NEW PROGRAMS
Men's lacrosse 2011-12
Women's lacrosse 2011-12
Women's bowling 2017-18
Men's volleyball 2017-18
Augustana fields 25 varsity sports programs. 
FACILITY IMPROVEMENTS
Swanson Stadium/Brunner Field completed 2004
Carver Softball Field lights added 2004
Carver Strength Center added to Carver Center 2004
Carver Center improvements 2008
 (seating replaced, interior painted and scoreboard added)
Ericson Field scoreboard added 2008
Paul V. Olsen Track resurfaced 2008
Wrestling room expanded 2010
Thorson-Lucken Field completed 2011
FieldTurf field surface installed and long jump, triple jump and pole vault pits relocated at Knowlton Outdoor Athletic Complex 2012
Knowlton Outdoor Athletic Complex/Lindberg Stadium completed 2013 
Wrestling room expanded 2013

Lacrosse/soccer locker room spaces completed at PepsiCo Rec Center 2014 
Indoor golf practice space completed 2016
NEW AND UPGRADED POSITIONS
Full-time assistant baseball coach added 2004-05
Athletics recruiter added 2007-08 
Wrestling coaching position upgraded to full-time 2008-09
Part-time sports information position created 2009-10
 (upgraded to full-time in 2013-14)
Men's lacrosse full-time coach hired 2010-11
Women's lacrosse full-time coach hired 2010-11
Part-time assistant athletic trainer position created 2011-12 (upgraded to full-time in 2013-14)
Men's golf part-time coach became stand-alone position 2011-12
Full-time assistant men's cross country/track coach added 2012-13
Men's, women's swimming coaches upgraded to full-time 2014-15
Women's bowling part-time coach hired 2016-17
Men's volleyball full-time coach hired 2016-17